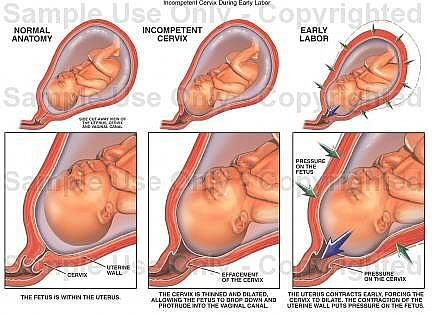 PICTURE ABOVE
Pic 1(Normal Cervix) Pic 2(Incompetent Cervix) Pic 3(Early Labor)
Cervical incompetence is a medical condition in which a pregnant woman's cervix begins to dilate (widen) and efface (thin) before her pregnancy has reached term. Cervical incompetence may cause miscarriage or preterm birth during the second and third trimesters.
In a woman with cervical incompetence, dilation and effacement of the cervix may occur without pain or uterine contractions. In a normal pregnancy, dilation and effacement occurs in response to uterine contractions. Cervical incompetence occurs because of weakness of the cervix, which is made to open by the growing pressure in the uterus as pregnancy progresses. If the responses are not halted, rupture of the membranes and birth of a premature baby can result.
The condition can be diagnosed with a hysterosalpingogram or pediatric Foley.